To Copy a Blanket Order, find the Blanket Order on your View Orders page and open it. From the More Actions menu at the top right, click on Copy. Copying the Blanket Order will take you to the Create Blanket Order page and will pull the details from the Blanket Order you copied.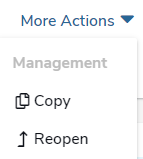 The Valid From Date will update to the current date but you can edit this if needed. You will need to enter the Valid To Date. Changes to the billing/shipping addresses, Account Codes and other Requisition details can be made in the Checkout screen. Once checked out, a Blanket Requisition is created and routed for approval.
You can also find more information about Blanket Orders in our Unimarket Help Documents.