Guided Buying is a new feature that replaces the Supplier Dashboard functionality.

This feature allows you to tag suppliers by any category you choose and is fully customizable by going to Administration > Settings > Management > Guided Buying. Here you can add any Collections you would like to appear under Guided Buying. This is optional, and if you do not list any Collections, this section will not appear in the Marketplace. You also have the option to Edit, Delete, or change the order of your collections on this page.

On the Create Collection Page you will be able to name your collection, and add relevant supplier tags. Additionally, you have the option to add additional content that will appear at the top of the page once inside a Collection (a URL can be added in this section). You can also Enable or Disable the Collection in the marketplace by using the Visible on Marketplace button.
One image can be added to each collection with a maximum size of 2MB. The file format must be either JPG or PNG. Once uploaded, it will appear below any content from the Text Box and you have the option to add a URL to the image, in case a user clicks on the image. (All collection links will open in a new tab).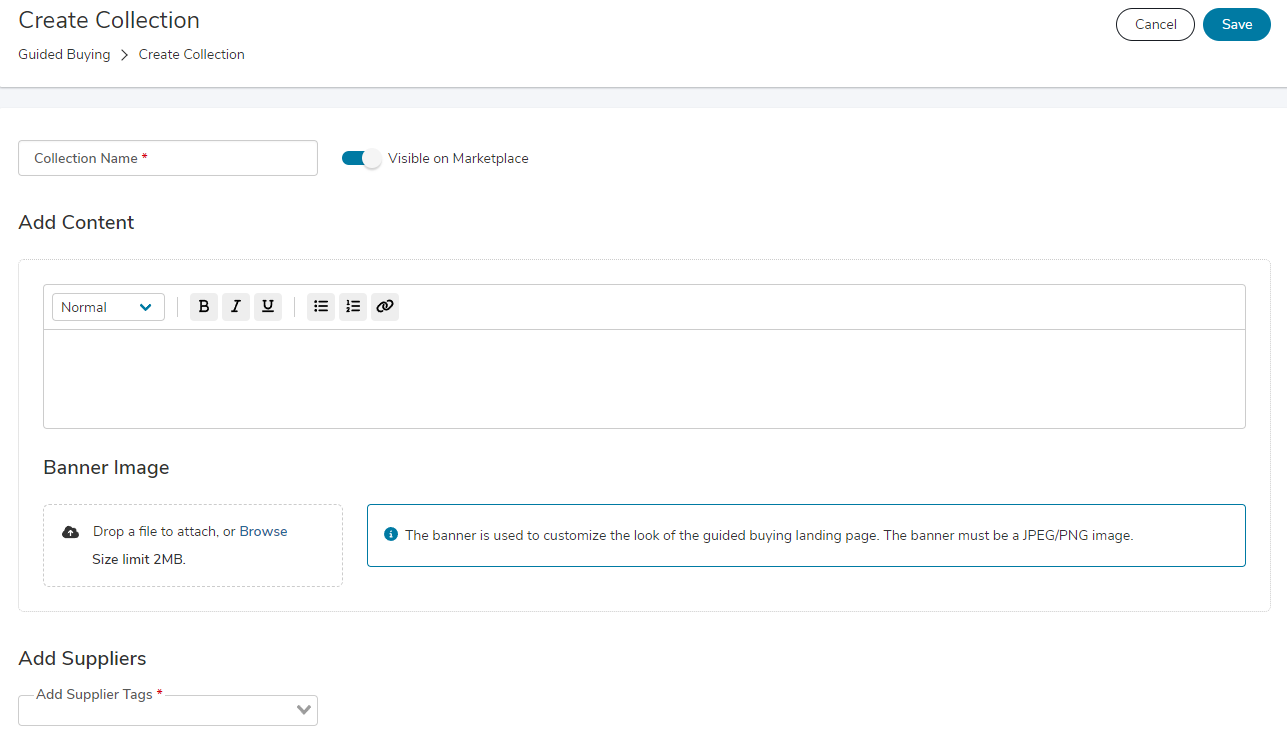 To help support collections, Supplier Tags can be viewed on the Order Export. The Export will show the Tags at the time of the Order.
Creating an RFQ from a Collection
You can select a Guided Buying group of suppliers for an RFQ by using the Guided Buying dropdown when they are on the Suppliers tab of the Request Quote page. You can then select which suppliers to send the RFQ to by checking the box next to their name and pressing Add.