The Unimarket Marketplace makes finding and buying items easier than ever.
We've streamlined the shopping process with features like Guided Buying, as well as the new community messages pop-up which makes the effective communication of key information with your users simple.
Community Messaging Pop-up
Information that previously appeared at the top of the community homepage is now displayed in a Community Message Pop-up upon a user logging in. This information can be updated by a Community Administrator in Administration > Settings > Profile 
The Description can be used to specify text that will appear at the top of the pop-up. This is often used to display a welcome message or key information for buyers.
An Alert can be specified which will display as an Important Reminder in the pop-up. This is often used if there are special instructions that buyers need to see.
Links (URLs) can be specified. These are displayed on the right side of the pop-up and can be used to provide links to documents or webpages such as 'Purchasing Guidelines' or internal support.
Users can acknowledge and close the pop-up by selecting "Mark as read".
However, if a Community Administrators makes any changes to the information contained in this message, it will trigger a
new
pop-up message for all users to ensure they view the updated information.
Note: If a user needs to review the Community Message or Quicklinks, they can click on the Learning Center icon at the bottom left corner to access the information at any time.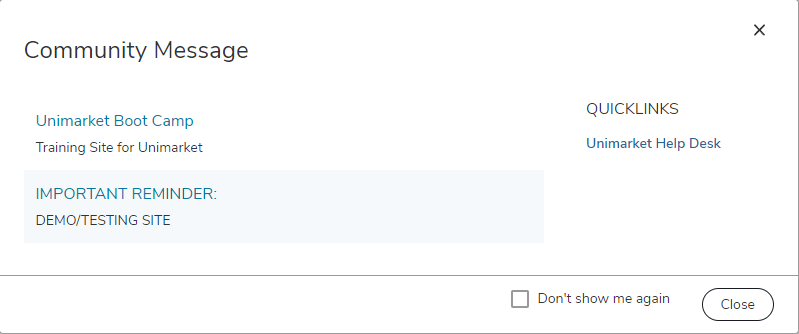 Learning Center
The Unimarket Learning Center can be accessed on the bottom left side of your menu.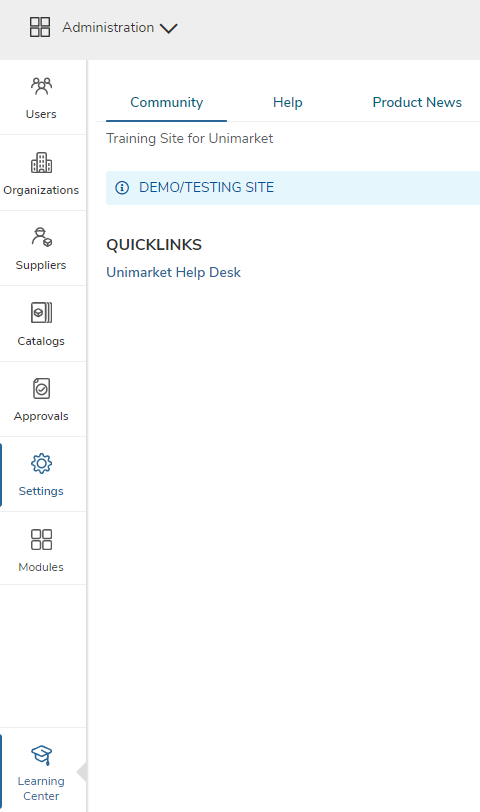 Here you will have access to the following tabs:
Community: You can view the current Alert/Reminder set by your community as well as any Quicklinks your community has added.
Help: You can click to view the Unimarket online help documentation.
Product News: You can view all recent updates to our Product News regarding New Features, Improvements, What's Coming, etc.
Marketplace Menu

Marketplace - acts as a home button and takes users back to their dashboard.
Purchasing - easy access to Create Non-catalog item, Create Blanket Order, Request Quote and Request Supplier. (If the community has these features enabled and the User has the appropriate Role).
Lists - navigates the user to their existing Shopping Lists.
Orders - navigates the user to the View Orders screen.
Transactions - gives the option to select View Requisitions, Receiving, View Requests for Quotes, View Invoices, or View Spend.
Guided Buying
Guided Buying is a new feature that replaces the Supplier Dashboard functionality.  This feature allows you to tag suppliers by any category you choose. This allows you to direct your users to specific suppliers.  This is fully customizable by going to Administration > Settings > Management > Tags > Dashboard. Here you can add any tags you would like to appear under Guided Buying. This is optional, and if you do not list any tags, this section will not appear in the Marketplace. To create more tags go to Administration > Settings > Management > Tags > Tags

Marketplace 
Some of the key aspects of the interface are the supplier tiles, search capabilities, filtering and supplier details.  Supplier tiles have been condensed slightly so more suppliers can be visible on the screen.  A quick search tool has been added along with more advanced filtering options. Additionally, suppliers with catalogs now have a shortcut to access the catalog with one-click at the bottom of their tile.
A new Create shortcut button has been added to the Marketplace homepage.   This button allows users to start a non-catalog order, blanket order or request a quote with less clicks than going into the supplier profile first.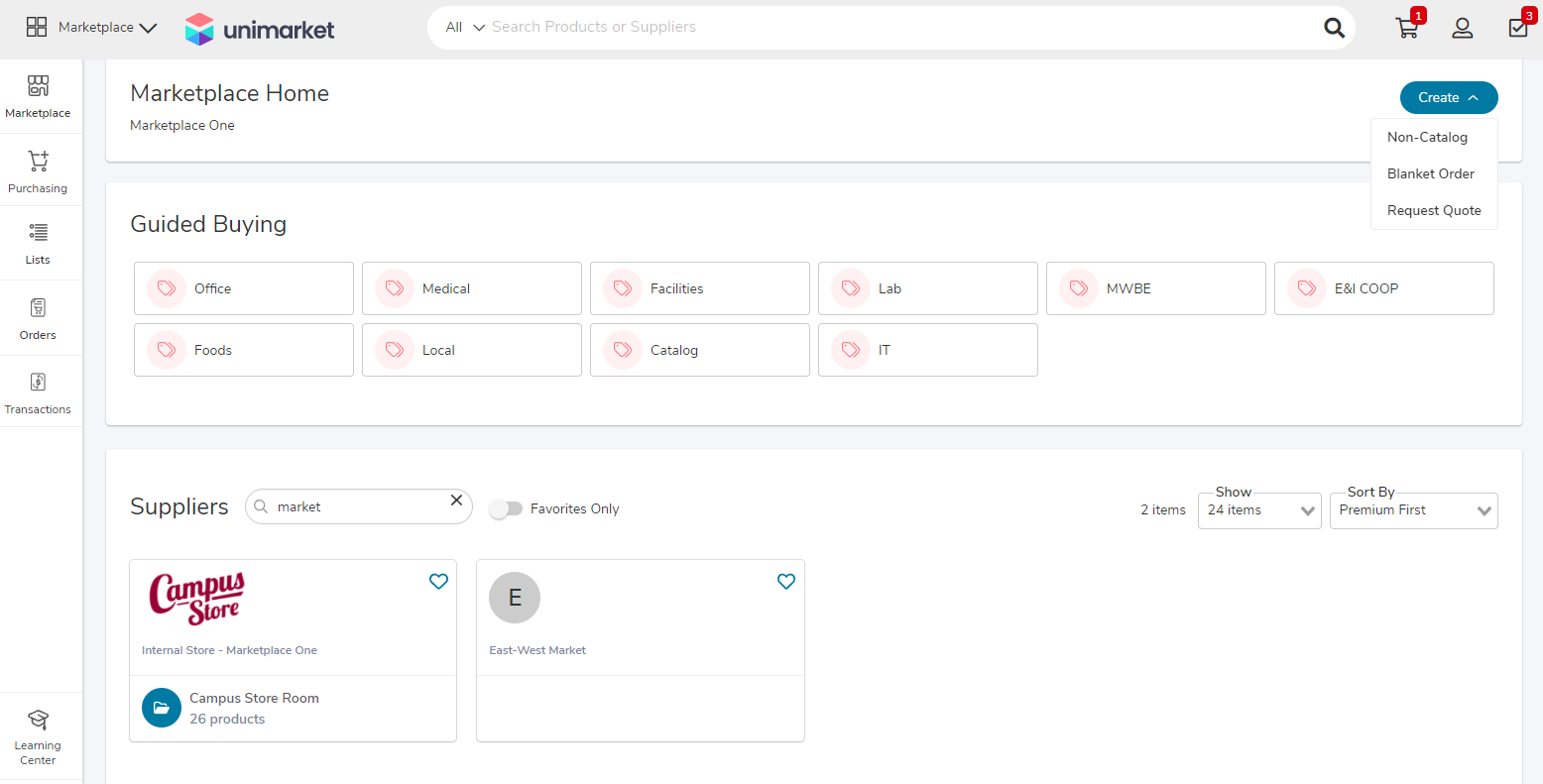 Once you click into the Supplier Profile, you will see any catalogs available.  Hosted Catalogs now have a grid or list view for easier product browsing.  The Supplier Details screen and Create tab have been moved to the top right corner.  The create tab will allow you to create a non-catalog item, blanket order, or request a quote.
Viewing Supplier Details/View Transactions
Once you click to View a Suppliers from the Marketplace, you will be taken to a screen with their supplier details. You can click from this page to the Shop tab to view the suppliers catalogs and product listing.  Additionally, you can click on View Transactions button at the top right corner to view either requisitions or orders related to this particular supplier.