For some Requisitions, the approval process may require more time than is configured before it will Escalate automatically to the next user in the chain. If enabled, Approvers can use the Pause Requisition function to provide more time to review the line items and/or communicate with the Buyer. When ready, the Approver is able to Resume the Requisition. Pause Requisition requires the Edit Requisition function to be enabled. To have this function enabled for your Community you will need to reach out to your Account Manager to discuss further.
Pause/Resume a Requisition
Go to your Tasks menu and under Approvals select View All to open a list of all Pending Requisitions requiring your Approval.

Click the Requisition number you wish to review.
In the top right corner click More Actions and select Pause Approvals.

Enter a Note advising why you are pausing the Approval of this Requisition and click OK.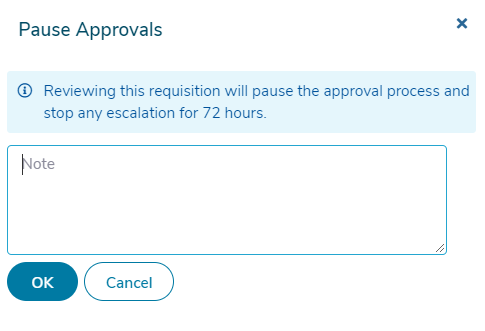 This will pause the Requisition up to the time configured by your Community. When Paused, a Requisition cannot be approved and will not escalate along the Approval Chain.
To Resume the Requisition click Resume in the Alert or Resume Approvals under the More Actions menu. Your Community has a Pause Time configured, the requisition will be resumed automatically after this period has expired.
For more information on how to Configure Pausing Requisitions and how to Edit Requisitions, please see the relevant help articles.