Overview
When a Supplier uploads a new Catalog to Unimarket, this will become available to users with the Community Administrator or the Catalog Reviewer role to assign Buyer groups. An email notification is sent out to the the Supplier Forums email address that is on file for your Community. If a catalog does not yet have any Buyer Groups assigned, it will not be available in your community's eMarketplace.
Accessing Catalogs
To find these catalogs, select the Administration Module from the top left hand side of the screen.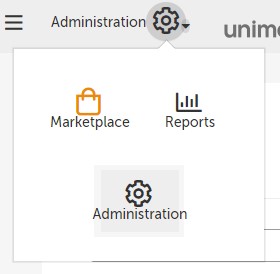 Once in the Administration Module, select Catalogs from the hamburger menu as shown below.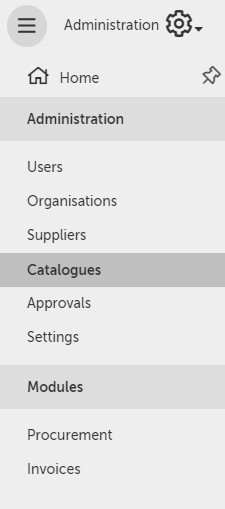 This will take you to a screen with all the catalogs that are available to your Community.

Assign Buyer Groups
Community Administrators and Catalog reviewers can also click on the Buyer Group link (on the right hand side of each catalog listed) to assign or change the Buyer Groups who can access the catalog.

Adding Comments
Both the community and the supplier can exchange messages through the Comments tab as part of the catalog review process. This provides Communities and Suppliers with the ability to ask questions, request changes or updates. A comment will be automatically created when a new catalog starts which notifies both parties via email. For the Community it will go to the Supplier Forums email loaded, or the default contact email if none exists.
To add a comment, click on the name of the catalog you wish to open. When viewing the catalog, select the comments tab to view the comments section. Click on the +Add Comment link to open a pop up window where you can write and send your comments.

Export Catalogs For Review
The Community Administrator can now export hosted catalogs in CSV format from the Community Catalog administration screen. When viewing the catalog, click on the Actions icon on the top right hand side and select the action Export Active Products. This downloads a CSV file of the active products in the catalog. This is useful if the community wants to review new catalogs or compare changes between catalogs.