Overview
A Lite Supplier is a set of contact details for a supplier you wish to purchase from. These details, including the purchase order email address, are entered or uploaded and managed by users with the Community Administrator or Community Supplier Administrator role. This means the supplier has no access to the Unimarket UI (User Interface) but buyers are able to create POs with manually entered (non-catalog) items to send via email.
If you only have one or two Lite (non-catalog) suppliers you would like to add, this method may be easier than uploading them using a CSV file, which is better for bulk entries. See steps below for instructions:
Go to the Administration module > Administration > Suppliers > Create Lite.
Click +Create Lite Supplier>>

A pop up window will appear where you can enter the suppliers details.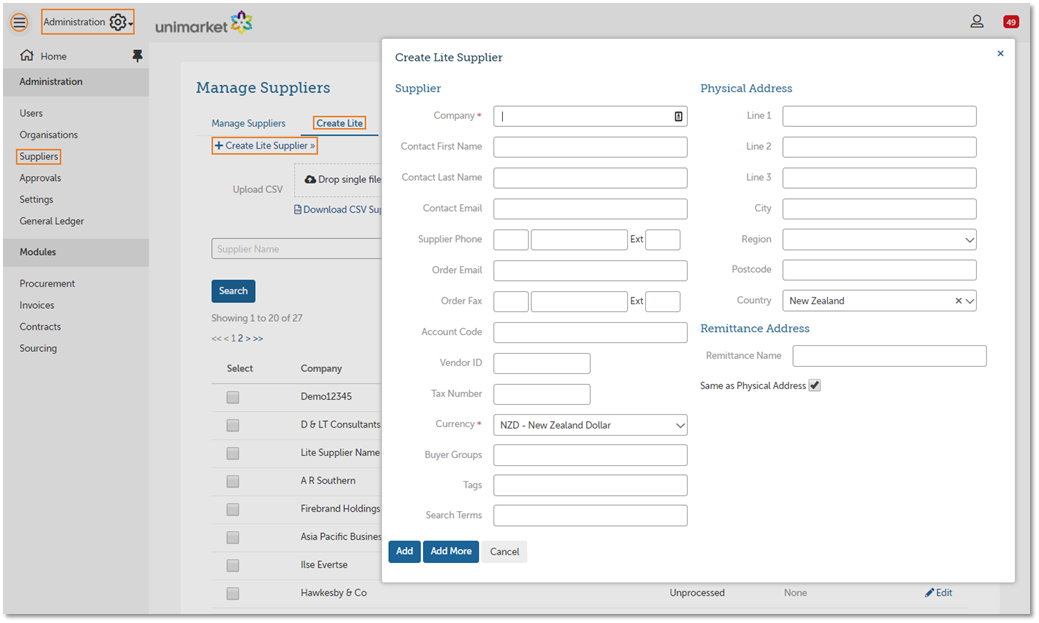 Click Add or if you adding more click Add More to open up a new supplier detail screen.
Tips
For the two addresses if any part is entered then the entire address must be valid.

Buyer Group Names must reference a group you have setup in the system. Setup the groups first.
Tags must reference existing Tag names in the system. Setup the Tags first.