If your community is using Org Units (Organization Units) for approvals, transaction or receiving sharing, users will be assigned an Org Unit in their user profile to select at Checkout, which links the requisition and subsequent order and invoice to the Org Unit.
The Bulk Change function allows Community Administrators the ability to tidy up historical order data by bulk changing the Org Unit on orders.
Note: This only allows users to select and bulk change the orders they would normally be able to edit directly.
Bulk Change
Select the Orders menu within the Marketplace module. (Use the search filters if needed to return the list of orders desired in the search results, e.g. choose the organization you want to change from, then click Apply Filters.) Once you are happy with your selections, click the Export button and select Bulk Change.


Select the orders from the list that you wish to change or you can choose Select All from the bottom of the list.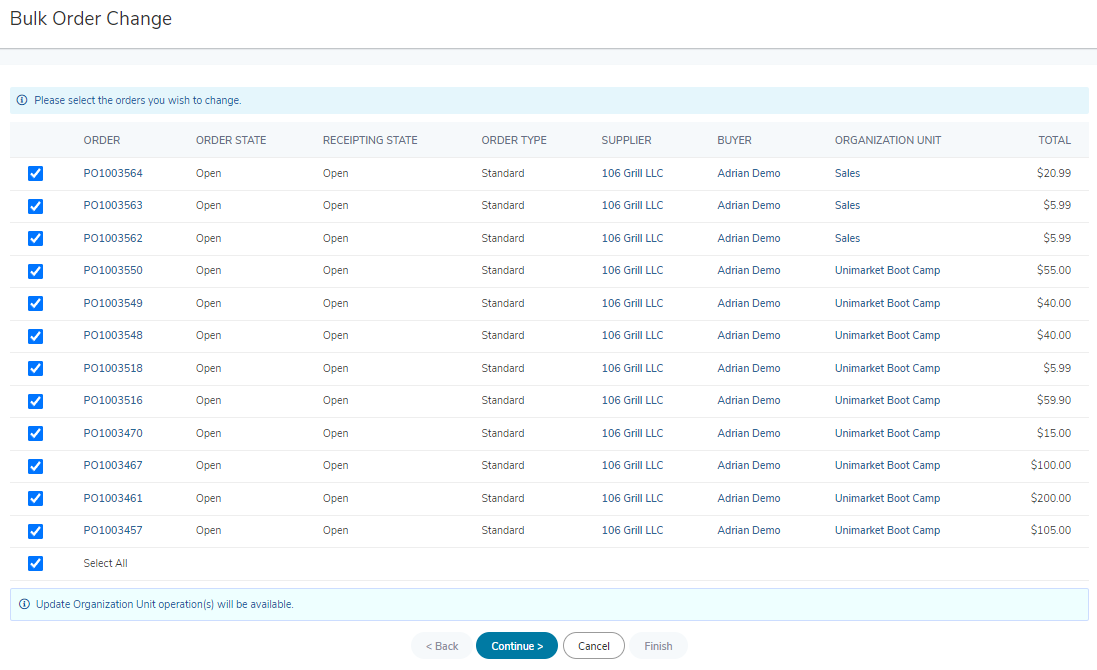 Once you have completed your selection, scroll to the bottom of the page and click Continue.
Select Update Organization Unit if not already selected and click Continue.

Select the org unit you wish to change the orders to and click Continue.

Review the orders that were selected to be changed and once you are happy scroll to the bottom of the page and click Finish to update the orders.