Overview
Users with the Community Administrator, View Transactions or Create Invoices role will have access to the Reporting menu and can run reports on community data.
When in the Reports module, if the Reports section of the Reporting menu is clicked you can see a list of the reports that have been run. Select Download to extract the report in a CSV format. Reports older than 18 months will be removed.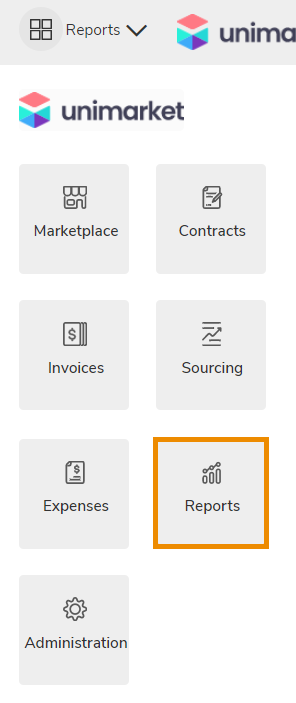 Run New Report
To Run a new report, select +Run Report from the Actions in the top right. Enter an email address which will receive notification once the report is ready, choose the Report Type you want to use and the date range you wish to report across (this defaults to one month).

The report will be added to the list, you can check the status of the report in the Status column and it can be downloaded once complete.
Report Types
Report Type Templates define the format and content of the report. Templates can be added to the community from a list of standard Unimarket templates or there may be custom templates defined and added to the community as part of the delivery process. To add a new standard template please contact Unimarket Support (support@unimarket.com) stating the templates you would like loaded. The current available templates are listed below.
| | |
| --- | --- |
| Standard Templates | Description |
| Unimarket Goods Received Not Invoiced | Lists order items created in the specified date range that have been received but do not have a matched invoice. |
| Unimarket GRNI Accruals Reconciliation | Goods Received Not Invoiced optimized for accruals reconciliation. Selects orders that were received between From Date and To Date. |
| Unimarket Invoices - All | Lists all invoices created in the specified date range. |
| Unimarket Invoices - Matched | Lists matched invoices created in the specified date range. |
| Unimarket Order Report | Lists orders created in the specified date range. |
| Unimarket Receiving report | Lists all buyer receiving that occurred in the specified date range. |
| Unimarket Requisition Items in Progress | Lists requisition line items created in the specified date range that are still awaiting approval. |
| Unimarket Requisitions In Progress | Lists requisitions created in the specified date range that have at least one item still awaiting approval. |
| Unimarket Expenses | Lists expenses created in the specified date range. |
| Invoice Items Pending Receiving | Lists all invoice items within the specified date range that are still pending receiving along with the users responsible for receiving the linked order item. |
| Orders Created After Invoice | This report identifies orders raised after invoice date. It highlights spend for which pre-approval was not completed. |
| Time From Order to Fully Received | The purpose of this report is to allow analysis of receiving behavior against order lines. It measures the time from order line creation to receiving closed. |
| Unimarket Requisitions | A list of requisitions placed in the system. All states. |
| Unimarket Requisition Approval Statistics | Requisitions and their associated approval timelines. |