Overview
If your community has the New Marketplace enabled, review the interim 'New Marketplace' Help Article for more information.
If your community has Request For Quote (RFQ) enabled, users with the Create RFQ role will be able to create RFQ's for multiple or individual suppliers.
Note: RFQ's must also be enabled by the Administrators of your Community within the suppliers profile under the Manage Suppliers page.
Creating a Request for Quote (RFQ)
To create a new RFQ click Request Quote from within the Marketplace menu and follow the simple on-screen process:

Header: The RFQ header is used to define the buyer's requirements. Provide an RFQ name, a description of the requirements and the response date which defines when the RFQ will end.


Suppliers: Select which suppliers to send the RFQ to by moving them into the selected window.


Attachments: Attachments can be added to the RFQ which will be sent to the supplier.


Email: Unimarket provides a standard email message that is sent to suppliers inviting them to submit a quote. You can review and change this message if required. For more information how to change this template see the Email Templates section of Sourcing Administration Module.


Confirm: Review and confirm the RFQ, then submit to the supplier(s). Go back to any step if RFQ details need to be changed.


Copying a previously submitted Request for Quote (RFQ)
To copy a previously submitted RFQ click View Requests for Quote from within the Orders menu and click on the quote you would like to copy. Then click on the More Actions drop down and select Copy RFQ. Selecting this option should copy details of the selected RFQ, including attachments, supplier, etc. It will not copy response date, reminder date and contact name - this changes to the user that copied the quote.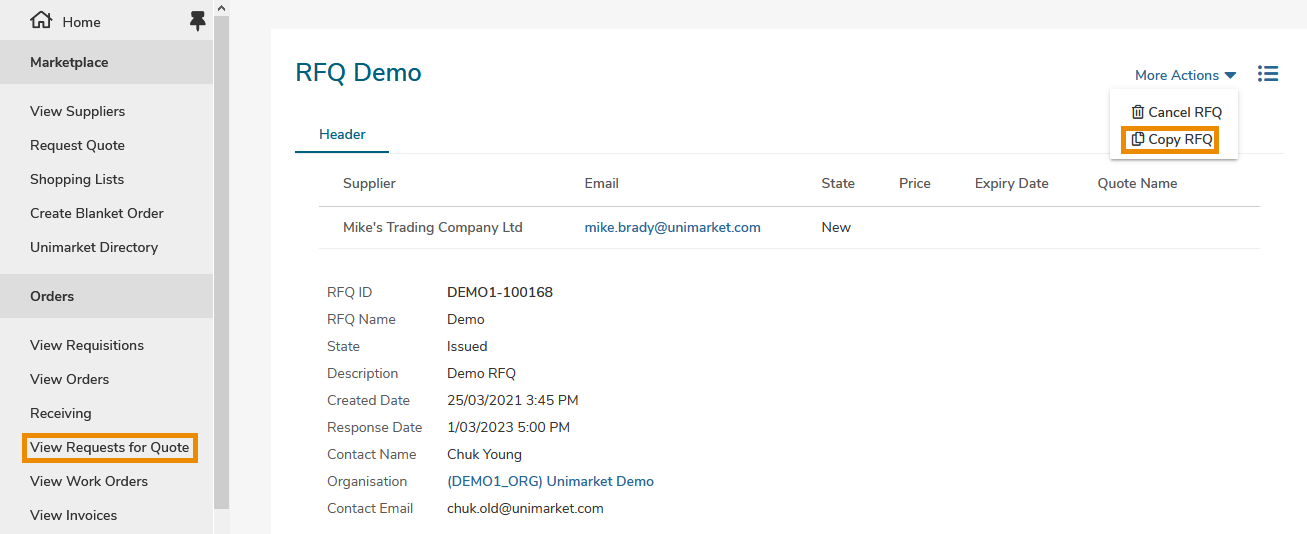 Once the buyer submits the RFQ it will be sent to the selected suppliers. Each supplier will receive an email inviting them to respond with a quote. The supplier will create a quote in Unimarket and once complete the buyer will be sent an email inviting them to review the supplier quote.
Stopping the RFQ Process
An RFQ will remain open until the Response Date specified, however if you need to stop the RFQ process before the response date go to View Requests for Quote from the Orders menu, select the required RFQ and click Cancel RFQ from the Actions in the top right. The supplier(s) will be notified that the RFQ has been cancelled.
Reviewing and Accepting Quotes
Note: It's also possible for suppliers to send you a quote without first receiving an RFQ. For more on accepting and declining supplier quotes click here.
Get Quote for a Catalog Item
It is also possible to request a quote from a catalog item where the Get Quote icon is displayed.