Depending on the way you prefer to search and what kind of search you are doing, we have multiple ways of searching for products and services within Unimarket to make things easier.
Quick Search
Buyers can quickly find products by using the Search function at the top of your Unimarket community. Unimarket has a Google style search where keywords can be entered to search across suppliers, product names, descriptions and other key information such as the product code. If you want to search for an exact phrase add quotation marks around the phrase, for example "first aid".

Filters
If more search options are required you can use the Filters to refine your search results. This allows a user's search to be narrowed by Tags, Product Category, Supplier and Pack Quantity
View Suppliers
Users can view suppliers by going to the Suppliers menu from the main dashboard. The supplier view filters premium catalog suppliers to the top by default and allows the users to browse through all suppliers alphabetically, or search for a supplier by name.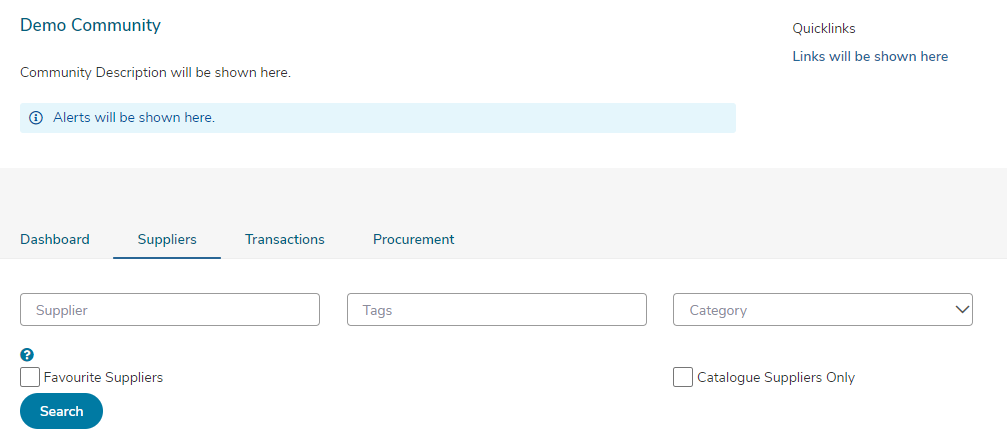 Note: Communities in Australia can also search by ABN and Communities in New Zealand can also search by GST Number
Tags
Users can view and search by Tags on the Suppliers page and in the Advanced Search.
Tags are set up by your community and associated with specific suppliers. Tags can help you to identify suppliers who have been tagged as Contracted, Preferred or Sustainable. Your community may also have other tags to help you identify certain types of suppliers, such as those who provide Catering or Travel. For more on Tags click here.
Note: These are supplier tags that have been defined by the community. They are not UNSPSC product categories.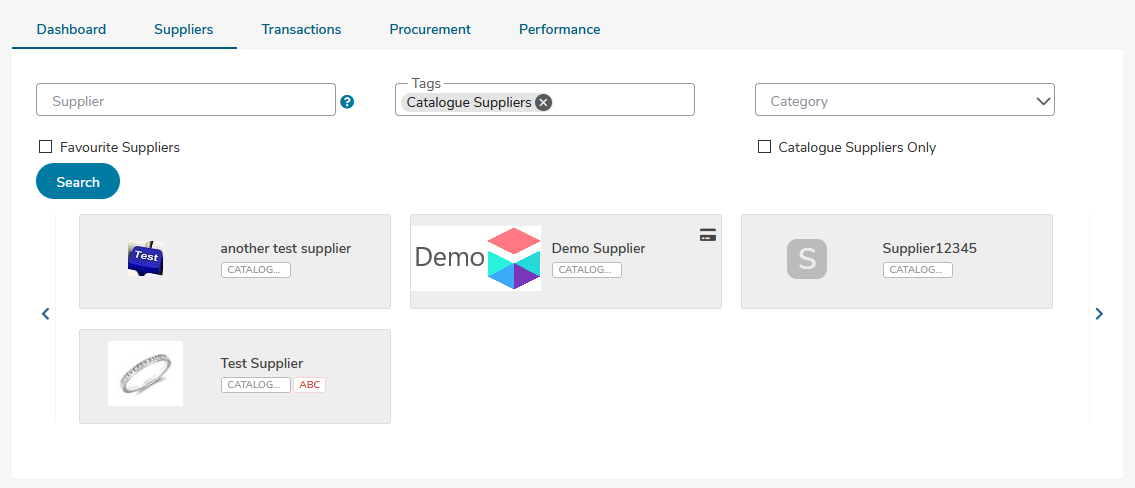 Quick Menu
Each supplier on the dashboard will show a small arrow in the top right corner as you hover your mouse over the supplier. This will display a quick menu, allowing users to quickly access a catalog, request a quote, create a non-catalog item or blanket order.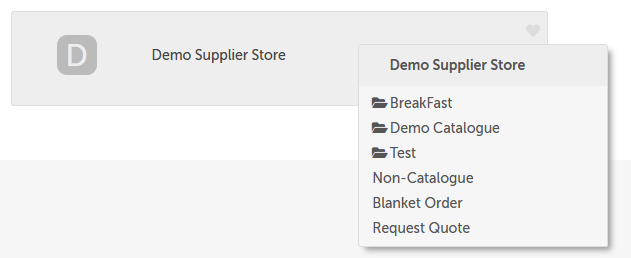 Supplier Store
To access a Supplier Store, click the name of the supplier in the Suppliers menu from the main dashboard. The Supplier store is organised into multiple tabs. Under the Store tab you will find all accessible catalogs for the supplier. Click a catalog to open the catalog and browse its products.