Sharing is a feature in Unimarket that allows users to access orders within the same Organization Unit (Org Unit). This feature allows users in an Org Unit visibility of orders for their Org Unit and spend data within the group. "Receiving Sharing" is an optional additional feature which allows members of the Org Unit to receive any order for their Org Unit.
How Does It Work?
Org Units are organized into a hierarchy in Unimarket. This hierarchy gives a parent/child relationship between Org Units. A member of a parent Org Unit has visibility of child Org Units, children do not have visibility of the parents.
In the example below, members of the 'Construction' Org Unit would have access to orders within their Org Unit, however a member of 'Facilities' would have access to orders within all three child Org Units.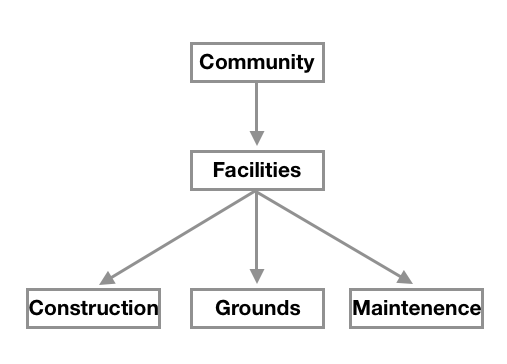 For more information on creating and managing Org Units, see our Organization Units help page.
How to view orders within your Org Unit
By default, the View Orders page will filter to only the user's orders. By clicking Filters, users can remove their name from the Buyer filter to see all orders they have access to.

Users can also view orders specific to an Org Unit they have access to by selecting the Org Unit in the Organization Unit field and clicking Apply Filter.

Order Export and Reporting
Users can export orders for their Org Units as a CSV file, either individually or for all Org Units they have access to. To report on all parent and child org units they belong to, users should leave the Organization Unit field blank, click Export and choose an Export option.

To report on a specific Org Unit, Filter the orders by that Org Unit, click Export and choose an Export option.
The options from this menu are:
Export Orders gives a user header level order data, exported into a spreadsheet.
Export Order Lines gives a user line level order data, exported into a spreadsheet.
Bulk Change is an option for making bulk changes to your filtered orders.
For more information on the Bulk Change feature, see PO Organization Unit Bulk Change.
Procurement Dashboard
Users will also have access to a Procurement Dashboard on the main Insights page. An Org Unit can be selection in the dropdown in the top left corner for what spend data will appear on the dashboard.

If a user chooses a parent Org Unit, the child Org Units will be included in the data.
Turning on Sharing
Sharing is enabled internally by your Account Manager. Schedule a conversation with your Unimarket Account Manager to discuss enabling Sharing for your community.