Overview
Approvals can be configured by users with the Community Administration or Approval Administrator role. This can be done for each Community by choosing the Administration option from the module selector in the top left of the screen and then selecting the Approvals option from the menu to the left of that.
Before your approvals are configured you will need to set up your users. For more on this see Manage Community Users.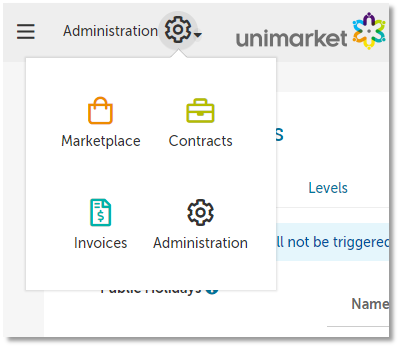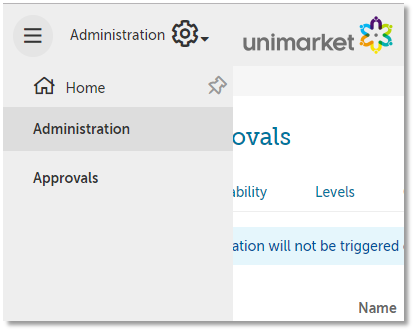 General - allows your community administrators to configure general approval settings.
Availability - shows any users who are currently set to not receive approvals or reassigned requisitions and lets you set this for other users if needed.
Levels - levels controlling the dollar amount a user can clear up to.
Groups - allows multiple users to represent one step in an Approval Chain (must be enabled for your community to appear).
Chains - chains of approvers where requisitions are routed.
Account Codes - if your community routes it's approvals via account code (find out on the Process tab) this tab is where you can view and manage the routing rules.
Process - Approvals in Unimarket will route by either Org Unit or Account Code.
Holidays - Dates that approvals will not auto escalate on.