Approver are sent requisitions that need to be reviewed before they are sent to the supplier to fulfill. In cases where an approver will not be able to do this (e.g. they are on annual leave), they can change their availability and have any requisitions that come to them during a set timeframe automatically escalate up the chain to the next delegated approver.
Alternatively, if the Proxy Approvers feature has been enabled, approvers who are unavailable can select another user to approve for them until they return.


Note: Approvals will not auto-escalate over weekends or public holidays set in the Public Holiday Schedule of your community.
Out of Office
Users that are away will display with an away icon and return date in all user-selection menus including the requisition reassign function, invoice assignment and anywhere a user is selected. You can set yourself as Out of Office by following the below steps: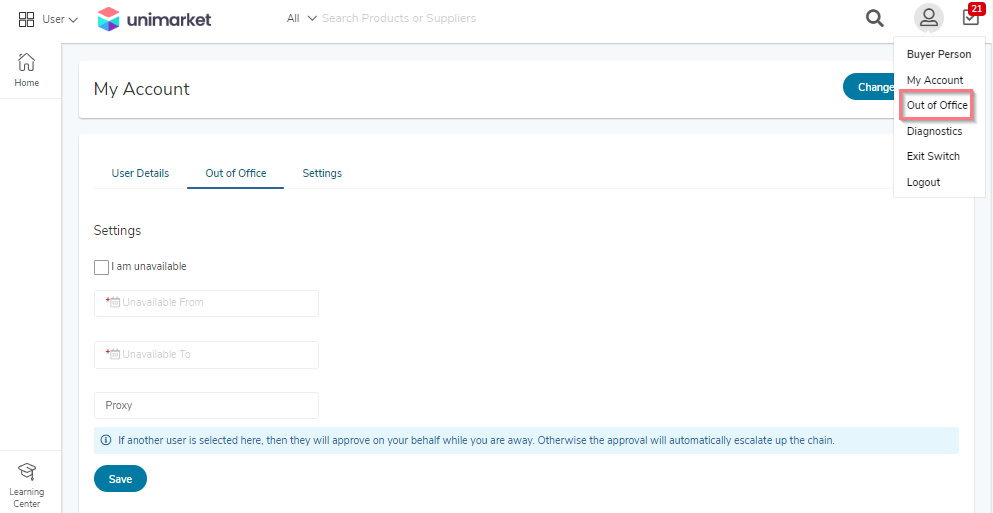 Go to the User icon and select Out of Office.
Check the box for I am Unavailable.
Enter the dates you will be Unavailable From and Through and click OK.
When a user is unavailable it will grey out their name and show when they are returning when reassigning a requisition or order.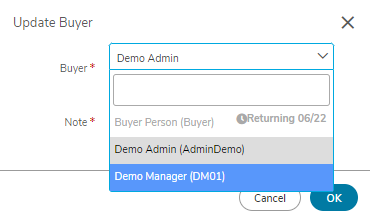 Unavailable
Go to Approvals from the Tasks menu at the top of the page.
Click View All and then Change Availability, which will open a pop up window.
Check the box next to I am unavailable and enter the dates you will be unavailable From and through To and click OK.
Proxy Approver
If the Proxy Approvers feature has been enabled for your community you can also assign who the Proxy will be by using the dropdown menu in the pop-up window. If no Proxy is selected the requisition will automatically escalate up the chain to the next delegated approver instead.
Proxy approvals are noted by the Proxy icon, visible on the approval tab of a requisition and within a user's approval tasks.

View & Manage Approvers Availability
Community Administrators have the ability to view and manage Approvers availability. This is extremely useful if an Approver has forgotten to mark themselves as unavailable and assign a Proxy (if Proxy Approvals are enabled). Community Administrators can view any Approvers currently marked as unavailable or mark an Approver as unavailable by navigating to the top left of the screen and selecting Administration from the Module selector and then choosing the Users option from the menu to the left of that. Then from here if they can click on the Out Of Office tab.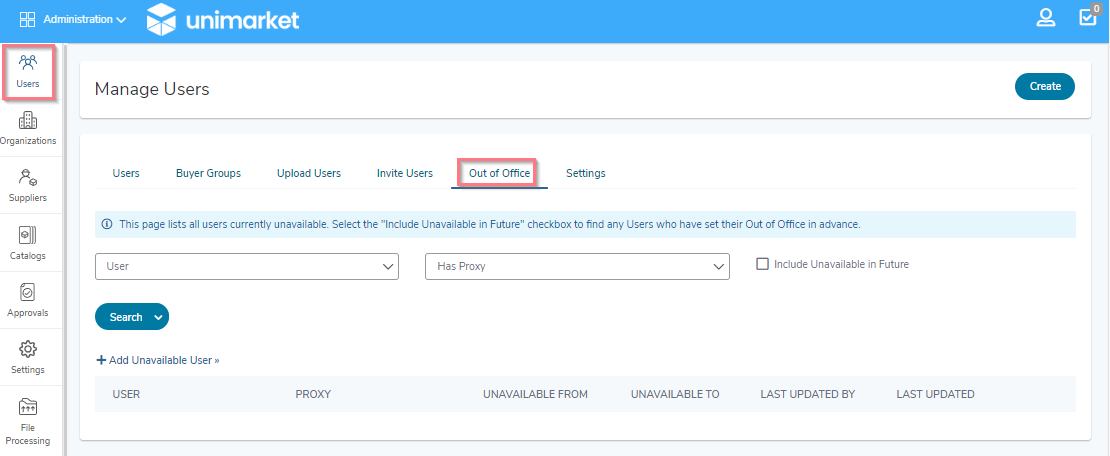 This view will show all users who are currently unavailable. To include all users who are currently unavailable as well as users that will be unavailable in the future tick Include Unavailable in Future. To add an Unavailable User click +Add Unavailable User.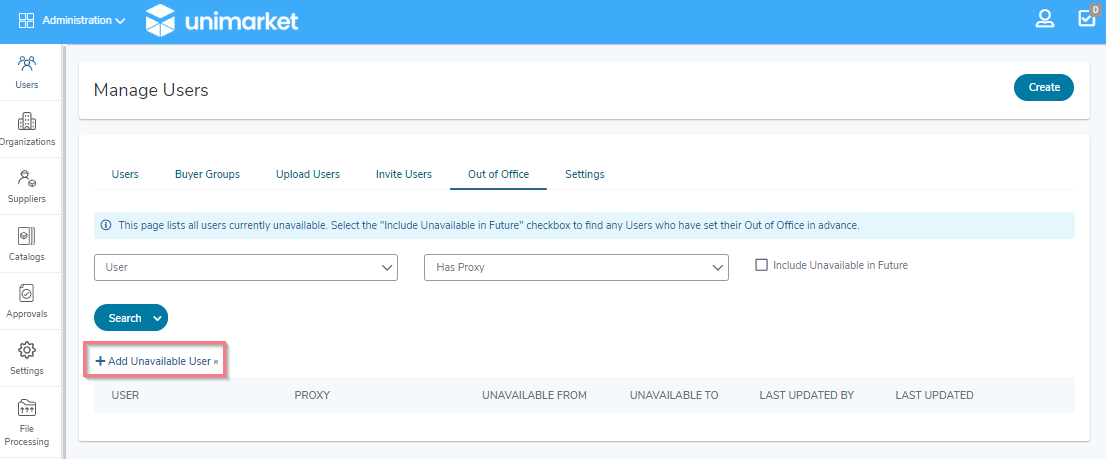 After selecting +Add Unavailable User a popup window will appear. You will be required to select a User and then define the time frame in which the Approvers will not be available.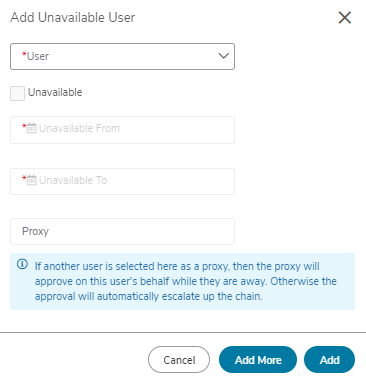 Once the Unavailable To date has passed, the approvals will no longer automatically escalate or route to the proxy approver if selected.
Limiting Proxy Approvers by Organization Unit
There is a configuration in the Approval Administration that limits the choice of Proxy Approvers to one in the same Organization Unit. This option is off by default, but provides more control for organizations that need it.